Custom Search
---
The Chicken Coop Manual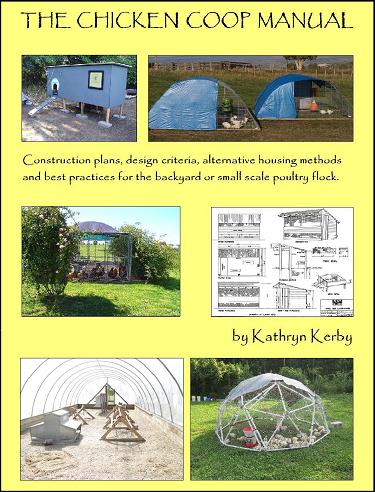 A comprehensive guide to small flock housing, for backyard chicken flock owners and small scale commercial operations.

When we started our flock, we looked in vain for chicken coop plans.  Most poultry books discussed breeds, feeding, health, egg production, etc.  But none of them offered detailed coop plans or options. At most, they offered a page or two of general housing information, as if "one size fits all".  We built our first coop in that vacuum of information. We quickly learned that first shelter was far from ideal.  Then we built another coop based on what we'd figured out so far.  That one did better, but still we had some lessons to learn.  More than a decade later, and several coop designs down the road, we've learned a lot about how many different issues affect poultry coop success.
Since then, we've helped new flock owners develop their own chicken coop plans. We were happy to help, but giving them all that information all at once was often overwhelming.  Yet we knew that choosing chicken coop plans was only part of the process.  Owners needed to consider a lot of other factors before building a coop.  That's when it occurred to us that a book would be the best way to communicate all that information.  So we wrote a book about chicken coops:
---
The Chicken Coop Manual is a comprehensive reference manual for all issues related to creating and maintaining successful poultry housing.  It has four sections: 
Section I covers these poultry-housing topics:
Chicken Coop Size

Feeders and waterers

Roosts

Nests and Egg Laying

Brooders for Chicks

Working conditions, Efficiency, Sanitation

Protection from Weather

Vermin Control

Predator Control

Disease Control

Heating and Lighting

Supplemental Heat

Supplemental Light

Bedding and Waste Management

Fixed or Mobile?

Chicken Tractors

Pre-Made Chicken Coops

Durability
Click here to read an excerpt from Section I
---
Section II describes the pro's and con's of eight different chicken coop plans, all using conventional stud construction:
Plan #1: Hutch-type Coop For 8-16 Birds
Plan #2: 20 to 30 Bird Family Flock Coop
Plan #3: 25 to 36 Bird Coop
Plan #4: 25 to 40 Bird Coop
Plan #5: 40 to 50 Bird Small Farm Coop
Plan #6: 50 to 80 Bird Small Farm Coop
Plan #7: 100 Birds Farm Flock Coop
Plan #8: Field Shelter for 100 Bird Farm Flock 
Click here to read an excerpt from Section II

---
Section III provides information about twelve alternative shelter ideas, where materials or buildings intended for other purposes have been successfully used as poultry housing:
Car Canopy Shelters
Greenhouse/Hoop House Shelters
Truck Bed With Canopy
Shipping Crates and Containers
Livestock and Horse Trailers
Cattle Panels and Tarps
Metal Erector Frames with Tarps
Pallets
Rebar Frames
Chain Link Dog Kennels
Geodesic Domes
Converted Barn Stalls
Click here to read an excerpt from Section III
---
Section IV provides a wide range of additional resources, such as books, websites, and articles which all touch on flock housing and management.
Click here to read an excerpt from Section IV
---
The Chicken Coop Manual is intended for:
People who want a small poultry flock, but weren't sure what sort of shelter they'd need.
Folks who already have actual chicken coop plans or firm design ideas, but had specific concerns about design details.
Individuals who must comply with local regulations, zoning or neighborhood covenant rules and must choose a coop that will meet those requirements.
Mentors for ag-related youth clubs such as 4H and FFA, and want a comprehensive guide to help students/participants design and build coops which will function well.
Teachers who are covering small scale poultry production in the classroom
Local or state regulators who are tasked with updating regulatory code for small scale poultry ownership within their jurisdictions, and need a guide for best-practices housing, waste management, disease control, and pest control.
---
Purchase Options
PDF Format, via Paypal, for $9.99


The PDF format is 83 pages long, 8.5" x 11" size, full color, with a hyperlink Table Of Contents. The PDF file will be available for instant download as soon as payment is confirmed via Paypal. Note: After you have received confirmation from Paypal that your payment has been successful, you will see a hyperlink on the Paypal page for "Return To Frog Chorus Farm".  Click that link to go to the instant download page.  If you leave the Paypal page without clicking that link, please Contact Us so that we can send you the link manually.  That followup may take up to 3 full business days.

---
Amazon.com Print or Kindle Format, prices vary

(current list prices as of March 2017 are $6.99-$9.99 for the Kindle version, and $26.49 for the New print version; used copies also available)


We are delighted to offer our book in both Print and Kindle format via Amazon.com.  All we ask is that folks post a review of our book once they've read it.  The price will vary according to format and condition (new vs used).  Note: If you would like to order a case of printed books for your school, 4H/FFA club, feed store,  poultry club or other group, please Contact Us for wholesale pricing.
---
Goals for The Chicken Coop Manual
We sincerely hope that new flock owners will find answers to all their chicken coop questions within this manual.  We hope that they share with us their eventual chicken coop plans, and how well those plans worked for them.  
---