Custom Search
---
Small Scale Dairy Production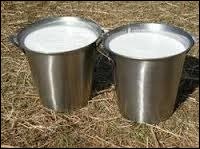 Many farms, families and individuals who own dairy animals have asked the same question: "can we sell our milk?"  The answer is yes, with caveats.  Small scale dairy production can be a lucrative enterprise for small scale farms.  But success in this enterprise come only after hard work, a lot of careful research and meticulous attention to detail.  Let's take a look at what's involved.

---
First, review the rules - the United States has a national set of standards on fluid milk and either wholesale and/or retail sales of that milk.  Those standards are known as the PMO, which stand for Pasteurized Milk Ordinance. Those standards apply in every state; however, each state implements those standards differently.  In addition to the PMO, each state can also enact its own set of additional laws on what can be done (or not done) with milk within its boundaries.  And just to make things more interesting, different state agencies will have laws on topics such as waste water discharge, solid waste disposal, water quality, food safety, worker training, product liability and/or business licensing, any or all of which can impact how an individual or business can sell milk.  Before any individual, family or business decides to sell milk in any way, he, she or they are well advised to review those laws and determine how best to meet them.  The rules can be complex, even contradictory.  But help exists to work through that maze of requirements.  We'll look at some of the kinds of rules which can trip people up, how to work within those rules, and where to find guidance on best practices.

Setting up a Milking Parlor and Dairy Room - this might sound very old-fashioned, or possibly much too involved for a small-scale or micro-scale dairy.  However, setting up a clean, safe, efficient and cost-effective dairy parlor and milk room is a very big step towards creating a high quality product.  Cow, sheep and goat dairies each need slightly different layouts, equipment and amenities within a milking parlor.  And each state will require slightly different details within the milk room, in terms of milk filtering, testing, cooling, handling, bottling, etc.  We'll look at what has worked for licensed dairies for each species.
Equipment - Whether a small scale dairy plans to milk by hand or by machine, equipment will become a top priority for capturing, transporting, filtering, cooling, storing and bottling that precious fluid milk.  The good news is, a variety of businesses now offer micro-scale and small-scale equipment suitable for cows goats and/or sheep.  We'll take a look at what's available and from whom.
Marketing & Sales - once we get that milk in the bottle, how best to sell it?  Different states will have different rules, but most rules are fairly consistent across the board (with some important exceptions).  For most states, small scale dairies have a variety of marketing and sales options from which to choose.  Those options will be more or less attractive to any individual family, based on scale of operation, number of people involved, type of facility, and amounts of fluid milk to be sold.
Liability - hardly anyone wants to think about product liability, but it has become a much bigger issue in the last 10 years than in any prior period of history.  It is no exaggeration to say that poor product insurance, or no product insurance, can cost a family their property, their business, and even their home.  On the other hand, careful liability insurance choices will protect a family, farm and business even if the worst should happen.  We'll take a look at those issues.
Real-World Budgets - want to see what it really truly costs to build and run a small scale dairy?  We'll look at startup and operational budgets for a variety of small-scale dairy operations to see what others have paid to build and run their own dairies.  While no two farms will have exactly the same costs, these budgets help illuminate real-world issues which must be addressed if a dairy is to survive and thrive.
Regulatory Issues on the Horizon - even as we figure out what rules are in place for our particular areas, the regulatory landscape is always changing.  We'll take a look at regulatory trends, both on the state and national levels, to see where the rules seem to be headed.  Any dairy which can barely meet current rules will be poorly equipped to deal with future regulatory requirements.  So sometimes it pays to take as long a look down the regulatory pipeline as we can manage.  We may not like what we see, but it's usually cheaper to prepare for it in advance than to deal with it after it's already arrived.

---
Ongoing Research
The dairy industry is a very dynamic industry, with constantly changing market trends, regulatory developments, equipment options, health issues and economic opportunities or constraints.  Even as we write up the various sections listed above, they'll be changing.  We'll always make an effort to keep our information current.  But we encourage folks who are serious about small scale dairy production to become as well-educated in these issues as possible.  We'll always try to provide sources for additional, current information as we can.

---