Babysitting the Farm
March 28, 2011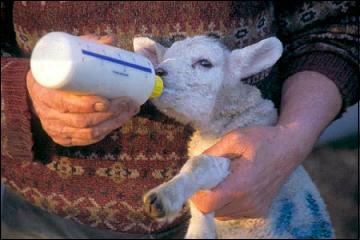 "Life is what happens while you're making other plans." - John Lennon

My farming partner and I have been working well together so far. I'll go down to her farm several times a week (more frequently now as the season is getting underway) and we'll work together to launch this year's crops in both the greenhouse and out in the planting beds. Then I'll return home and tend the farm here, sometimes working fairly late to get everything done. If we had no outside interruptions, we would be well along in our plans for the year. But as it turns out, no one is quite so lucky.

She got a call about a week ago that her family needed her presence, as her father faced some new and serious health issues. So the decision was hastily made to leave mid-week and head for home, roughly 400 miles away. I would babysit her farm in her absence, ensuring that all the plants were tended, continue our planting work and generally keep an eye on things. She was gone for five days, during which time I got several cool-season crops planted, some additional bedding plants prepped, some things transplanted, and kept everyone watered. It was an interesting week during her absence, where I had to make a variety of small decisions about how to manage this or that on her farm, without her there to verify the decision. We talked during the day by phone and at night via email, but still her absence was noticeable. Upon her return, all was well and she commented that yes, this, that and those other things had been done well. A few things had not quite been handled the way she would have handled them but they were OK, and one or two items had gone completely unnoticed by me but would have been taken in stride had she been home. It's never quite a perfect report card, when someone babysits for another's farm. We all have our particular ways of doing things. But I for one was glad that she was home, and even more glad that she was generally pleased with the condition of the farm upon her return.

We have not traveled in almost 3 years. Our last trip was, ironically, much like my farm partners - an emergency trip home during a family health crisis. At that time we had been using a farm sitter who had done a really nice job for us, but she was unavailable during that emergency trip. My best friend's daughter had expressed some interest in the farm and farm-sitting for us, so she got a crash course in how to take care of everything. My husband stayed home so he was there to provide for the house animals and to help her out for the rest. Still, it was a stressful trip for everyone because we had not prepped very well for my absence.

The topic of farm-sitting is something of a sore spot for us, and for many farmers, livestock owners and growers of any scale. We form such individual bonds with these living things we care for, and such closely tailored methods for providing their care. It's hard to step away from that even under duress, let alone simply for the sake of recreational travel. My farm mentor had long wanted to travel to Africa simply to see the wildlife and the cultures there. It was a lifelong dream for her. Despite her close connections with her local 4H group and countless young farming enthusiasts, it took her years to establish the correct team of people to care for her farm when she finally decided to take that trip. She and her husband were gone for three weeks, and had a great time. When she returned, the farm was generally in good shape but one of their cats had run away (miraculously to be found months later) and she spent a fair amount of time putting things back the way she wanted them. It's always a mixed bag of "thanks for watching things, but darnit I wish you'd done things the way I wanted them done."

We wrestle with how best to set up our own operation, so that we can travel again. We don't really care to travel for sight-seeing, per se. However we do want to visit distant family and friends whom we have not seen in years. The first task is to set up our operation so that the feeding schedule, the animal yards, the garden and the house are all set up efficiently and simply enough that anyone can easily come through and complete the tasks at hand, without remembering a whole litany of exceptions and special instructions and alternative rules. That effort also pays off in faster chores for me anyway, but it's easier said that done. Buildings, fences, feeding programs and crop rotations are all impacted by the desire to streamline the daily chores. Yet even after that make-over is completed, we still need to find someone to actually be here in our absence. And therein lay the bigger problem. Most folks who advertise as farm-sitters are willing to watch a few horses, or a backyard of goats, or a small flock of hens. Rarely are people willing, let alone able, to walk onto a farm and know what they need to know to take over for a few days. Not unless they already work there or work at a very similar operation. At that point they are no longer called farm sitters. They're called employees, and need to be paid (and in many states, insured) the same as employees. The quest for a long weekend turns into a long lesson in employee training and paperwork. Even if we got that part of things figured out, then there's the issue of cost. We need to pay the employees who watch the farm. We need to forego the lost sales and marketing contacts which would be made if we were home and open for business. And sometimes we need to pay for the additional supplies, feed and other what-not that we'd get, use and replace during that time interval. Which in sum is why we haven't left in three years. At some point, it's just easier to stay home.

Nevertheless, there are family members to be visited, emergencies do come up, and darnit there are conferences and workshops and regular pretty places that I'd like to attend some day. So the quest continues to redesign the farm, train the farm babysitters, and sequester the money and materials required to some day step away for awhile. If and when that day arrives, I'll need a vacation simply to make up for all the work I did preparing for the vacation. Here's hoping I get all that done before Life happens to toss another emergency our way.