First Day In the Garden
March 20, 2011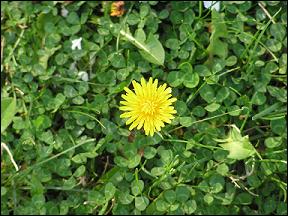 The first day of spring here is usually cold and wet, much like a dog's nose. You're always glad to see it but dang you don't want to get too close to it. So today's forecast for partly cloudy skies, no rain and temps in the 50's had us outside most of the day. And glad to be there.
There's a day in every gardener's year where you first venture out into the garden after winter's storms, eager for the new growing season to begin. It is a mellow day for some and a day of grand ceremony for others: The First Day In the Garden. Whether that day happens in January for those lucky souls down south, or February or March for us in this moderate climate, or even as late as April for those pour individuals who must wait until then to see their soil, it's almost always a good feeling to be back in the garden again. Whatever mistakes made in previous years are behind us, and the growing season stretches out in front of us just bursting with promise.
Our first task was to clean up all the downed branches strewn across the area. With our windstorms in winter, we usually have a fair number of small branches to clean up, along with trash that has blown in from wherever it came from. I had a short scare today thinking that a fairly large branch had possibly damaged one of the beehives which hibernated out in the garden over the winter. Happily, that was not the case. The day was even warm enough that both beehives were actively involved in some housecleaning of their own, so I was able to check them as well. That's always so nice to see the bees flying for the first time each spring.
Second, we take inventory of what perennials made it through the winter, what didn't, what might have gone to seed unnoticed the autumn before, and what weeds are already so bold as to be pushing up through the ground and daring us to pull them. Somehow I find it hard to pull weeds on my first trip into the garden. After all, they're hardy enough to have survived all winter and be first out of the gate in springtime. Surely we should reward that vigor rather than yank it unceremoniously out of the ground. As much as some of you might be shaking your head and thinking "my goodness, what a wimp", I must say that at least in our garden, the first weeds out of the ground are almost always actually useful plants that have a long history of being early spring tonics, good for the body. Dandelion, chickweed, nettle and nipplewort are all cool-season succulent leafy greens that taste great in salads, and help cleanse the body's stale blood. So if I pull those out of the ground, it's usually to eat them and it's usually done with respect. Never begrudge the plants that grow for free, particularly those that are so good for us.
As for plants which went to seed last year, we had some garlic escape notice and bloom, and their progeny spilled over into one of the walkways. Now that progeny is growing in tight little bundles scattered here and there. I wasn't counting on so much garlic, but there it is so I'll make use of it. We have some volunteer radish coming up as well - another stalwart early spring citizen. I never developed much of a taste for radishes until I started growing them for myself. Of course my radishes taste much better than anyone else's. A common gardener delusion, but I'm okay with that. And I was glad to see that at least some of the rosemary made it through, and of course the chives came through like champs. They don't mind cold weather in the least. But I lost all my tarragon and thyme, darnit. I'll have to replace those. And there's my comfrey poking up spring's first leaves through the dark earth. I always love comfrey's gigantic leaves. Chickens love 'em too.
While we have other productive areas of the farm, somehow the garden is different. We don't grow for market here anymore. Whatever is growing here is for us. So we can grow things here that we'll never sell, and which have no purpose other than we like it and we want it and we had a place for it. So my wild clover patch is here, and my wrought iron rooster planter which always tips over (but I love it anyway), and the lemon balm which I bought on a whim and now can't live without. The mints and horseradish impatiently live here, chafing at the confines of their pots, yearning for the chance to take over the world. I'm even growing out a few hazelnut seedlings from last year, and the strawberries that I bought at a flea-market of all places but which put out the most amazing berries. This year we'll be planting some new things out here - we're finally building dedicated beds for asparagus and rhubarb, and I want a dedicated medicinal herbs area. So many plans for the garden and it's only barely springtime. But dreams grow well in spring just like the garlic does. May a lot of those dreams thrive in the coming year, just like the garlic. And maybe a few of those dreams will go to seed and spill some progeny of their own, to sprout and root and grow while no one is looking. What a nice thought.
---
---