Foraging for Fun, Food and Profit
March 24, 2011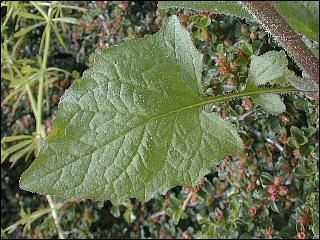 I had always been interested in wild foods. The notion is both ancient and cutting edge - gathering nutritious, tasty food from the landscape as a regular contribution to our daily nutrition. Now that I'm raising food as my income, that practice took on new meaning. In addition to our regular planted crops, it made sense to at least look into what might be growing already, and whether it could be marketed. Turns out, we had a lot of edible plants growing wild on the farm. But what could we do with it?
Last year I asked my market manager if I could bring some wild greens to market each week. In addition to being a farmers' market manager, she's also a regional authority on native cultures including the foods they foraged. I gave her my list of proposed greens - nipplewort, narrow leaf plantain, chickweed, dandelion, and dead nettle. All of them were nutritious, none of them were toxic, and each of them contributed a different shape, texture and taste to any particular blend. We also had plenty of each. She agreed, and I bagged up a few salad mix bags' worth to take to market. I wasn't sure what to expect, but I sold out that first time. Wow! So that next week I bagged up a little more, knowing full well that the previous week's sales could have been nothing other than the novelty of it all. But again, I sold out. I brought those wild greens to market for the rest of our season, and each week they sold out, both to repeat customers and to new customers. I couldn't believe it. Here had been plants I'd been weeding and discarding all this time, and they were selling at a higher price than the plants I'd seeded, weeded, tended and irrigated so carefully. Additionally, I had people tell me that they loved the taste, they loved the way the greens made them feel better, and they even sometimes asked for two or three bags for a party they were hosting. By the end of the season, I had become known at market as "the one with the wild foods" and I was getting requests for wild items which I did not have - fern fiddleheads, moss for terrariums, foraged mushrooms and rosehips to name a few. I came away from that season with a much healthier respect for wild greens, and the role they can play not only in food sustainability, but farmers market profits.
There is a very small list of cautions which I nevertheless should share. First of all, I had to harvest those greens from areas of the farm where we didn't have any possibility of animal contamination. That cut out a lot of potential harvest area. This year we actually transplanted some of the nipplewort rosettes into the garden so that we'd have plentiful supply of them in a safe-from-animals crop production area. Second, we had to be absolutely positively sure on our wild plant identification. Some plants like narrow leaf plantain and chickweed are extremely common and easy to learn. Nipplewort has a very distinctive leaf and while relatively unknown, is also common and easy to identify. Wild mushrooms, however, will not ever be on our farmers' market table because many very poisonous varieties grow here, and look very similar to culinary varieties. I won't take that risk. And some, like the fern fiddleheads, are only available during a very short period of time. We may or may not offer those this year, depending on whether I have the time to harvest them when they're ready, and if we have demand for them when they're available.
---
Foraging Books

If you are interested in wild and foraged foods, either in general or in your particular area, there are a variety of books now available to help you with your search.
Nature's Garden: A Guide to Identifying, Harvesting, and Preparing Edible Wild Plants by Samuel Thayer

Nature's Garden is written by one of the foraging community's best respected authors, Samuel Thayer. His first foraging book, Nature's Harvest, was hailed as the best of it's kind, and used as the first best source of authoritative information on foraging for edible plants. That book came out in 2006. This latest book, released in early 2010, built on that previous success but added to it, and is now widely regarded as the best of its kind and far ahead of the rest of the pack.

---
Edible Wild Plants: Wild Foods From Dirt To Plate by John Kallas

Edible Wild Plants is another well regarded and strongly recommended book on the topic. Excellent photos to help illustrate various forage plants goes along with humorous writing and tasty recipes. Perhaps not as scholarly a work as Nature's Garden, but definitely also worthy of a forager's attention.

---
The Essential Wild Food Survival Guide, by Linda Runyon

This book by Linda Runyon is a notable exception to the others, because she isn't merely an authority on the topic. Rather, she fed herself and her family almost exclusively via foraged and wild foods for many years. She lived the topic and that experience shows in her book. While others focus on plant identification, she focuses on how to use the plant once you know which plant it is. She also provides in-depth nutritional information for many plants. That information may or may not be of interest for hobbyist foragers, but it can be crucial for those who make foraging a major part of their dietary intake.

---
Additional Resources

Another extremely helpful source of information are websites dedicated to foraging information and forager training. One such website is www.foraging.com which provides a mind-boggling array of books, website links and other resources for foragers around the country. You'd have to live a long time to work through all those resources, but wow you'll have fun in the process. Another website is www.wildmanstevebrill.com, written by a veteran forager named Steve Brill. He is a forager in New York State, who offers books and workshops for those who wish to learn more about foraging. His website provides a lot of different resources. A third website is here written by Laura Martin-Bühler. She also provides a wide variety of suggestions and encouragement for those who are foraging not because they want to, but because they need to feed themselves and their families.

We are so fortunate to live in a society where food is rarely lacking in availability. But many on earth now do not have that luxury, either because of financial hardship and/or geographical distribution problems. If you would like to learn more about foraging, there are resources to do so. If you'd like to add such wild foods to your market crops, there are ways to do that too. I encourage you to at least become aware of the possibilities, whatever your interest.
---