Seeds of Destruction, Seeds of Hope
February 2, 2011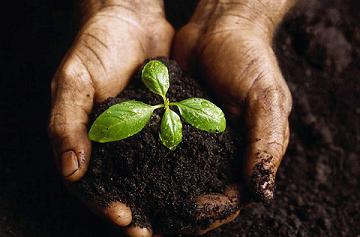 The news broke here like it broke everywhere, as a minor news headline which took awhile to sink in. Genetically engineered alfalfa varieties had been given the official federal OK to be planted anywhere, anytime, by anyone who wants to buy the seed from Monsanto, as of this coming spring. That deregulation occurred despite strong public pressure against it. And it was accompanied by no labeling requirements whatsoever, despite the fact that many consumers here, and many of our export partners, strongly object to its use.
It felt like a kick to the gut. And to the head.
Genetic engineering is a mixed blessing. I say that because at best, it can provide some helpful new genetic traits in valuable food crops which cannot be provided otherwise. However, the technique is far from being the precision instrument it is portrayed as being. We do not yet have the ability to "cut and paste" exactly the genetic material we want to move from one plant into another. There are always additional genetic materials that come along for the ride, which have their own sometimes unexpected impacts on the recipient plant. Additionally, we have learned that any single genetic pair may be involved with more than one trait. Even as we introduce the traits we wanted, we can simultaneously introduce unexpected new traits. At worst, it's a Pandora's box of unknown unintentional consequences. We have already seen instances of genetic drift not only to unintended nearby crops, but also to closely related weeds. We have also seen a variety of health issues or reactions to GE crops, ranging from livestock and wildlife who will not eat GE crops, all the way to human beings eating GE materials without knowing they've done so, and then suffering allergic reactions to the new genetic materials and the chemical substances they created. The problems with GE crops are not merely theoretical.
Going through all the repercussions here would take much, much more space than I generally devote to daily blogs. Nevertheless, I wanted to provide you, Dear Reader, with some online resources to help you sort out the various issues involved with genetic engineering in general, and the repercussions of deregulated genetically engineered alfalfa in particular.
NOTE: I have tried to provide information not from activist and alternative news sources, per se, but from those parties who have either extensive experience in genetic engineering and/or agricultural production, and are in a position to be held responsible for the accuracy of their statements, by their peers and colleagues. As a result, these various sources will have different interpretations of genetic engineering, but they should all be technically accurate. I make that distinction because many activist and alternative news websites merely parrot what they read elsewhere, without having any fundamental working knowledge of the methods in use, and without any repercussions from providing blatantly incorrect information. As always, Reader Beware, of not only the information provided, but also the source.

* introduction to genetic engineering, and its pro's and con's:
West Virginia University's Extension Service GE Pro's/Con's
West Virginia University's GE Pro's/Con's, Part II
Sustainable Table's Issues Page on Genetic Engineering
Human Genome Project Information's GE Issues page
National Sustainable Agriculture Information Service's Organic Crop Issues page, including comments on GE
Maize cDNA Project's GE Issues page


* the formal announcement of the USDA's deregulation of GE alfalfa:
Federal Register February 2, 2011

* why GE alfalfa is such a huge problem:
Environmental News Service Article
Ecological Farming Association's GE Alfalfa Information Page
National Sustainable Agriculture Coalition's GE Alfalfa page
Associated Press' article about GE Alfalfa contamination

A lengthier look at the implications of genetically engineered alfalfa is available here. This will open as a PDF document:
Western Organization of Resource Council's position paper on GE Alfalfa

Whenever some big new development rolls into our individual or collective realities, we have a choice. We can:
* refuse to believe it
* accept it with resignation and silence
* rant and rave and shout and stamp our feet but not actually DO anything useful
* change our methods, our goals, and/or our strategies to get through, get around, and get past new challenges

In the context of this latest major setback to sustainable agriculture, a number of people, including us, have decided to move forward with plans that until now had only been on the drawing boards. Now, those plans are being dusted off and reviewed to see how well they might help answer this new development, either for our own operations and/or for our customers and communities. Some of these new plans include:
* raising our own feed so that we can control what seeds we use, how it is produced, and what our animals eat
* setting up a fraction of each crop such that we can save viable, genetically-pure seed from generation to generation, in ways that minimize or eliminate the potential for GE contamination
* making that seed available to others, either via informal Seed Savers exchanges amongst groups, and/or via seed sales (again either locally, regionally or nationally).
* getting more involved in local, national and international attempts to save not only domesticated seed varieties, but also wild relatives of our domesticated species, via participation with seed banks, biodiversity efforts, and sustainable farming organizations.

We heartily encourage others to pursue any or all of the above options, as they fit into individual operations.

To learn more about how you can fight this issue, check out these online resources:
* join efforts to petition President Obama to overturn this decision:
Petition to President Obama

*Join local, national and international seed saving efforts:
Seed Savers Exchange
International Seed Saving Institute
Native Seeds of the American Southwest
Seeds Trust
Baker Creek Heirloom Seeds

* Learn how to save your own garden's seeds:
How to Save Garden Seeds website
Mother Earth News Article on How to Save Seeds
Seed Saving for Beginners

For an authoritative how-to on seed saving, check out these books:
Seed to Seed: Seed Saving and Growing Techniques for Vegetable Gardeners, 2nd Edition
The New Seed-Starter's Handbook
Breed Your Own Vegetable Varieties: The Gardener's and Farmer's Guide to Plant Breeding and Seed Saving, 2nd Edition
Seed Sowing and Saving: Step-by-Step Techniques for Collecting and Growing More Than 100 Vegetables, Flowers, and Herbs (Gardening Skills Illustrated)
Seed Sowing and Saving: Step-by-Step Techniques for Collecting and Growing More Than 100 Vegetables, Flowers, and Herbs (Gardening Skills Illustrated)


If you take nothing else from this blog, please take these thoughts to heart:

Every adversity, every failure, and every heartache, carries with it the Seed of an equivalent or greater Benefit.
Napolean Hill

Earth teach me to forget myself as melted snow forgets its life.
Earth teach me resignation as the leaves which die in the fall.
Earth teach me courage as the tree which stands all alone.
Earth teach me regeneration as the seed which rises in the spring.
William Alexander

Whether you tend a garden or not, you are the gardener of your own being, the seed of your destiny.
The Findhorn Community

Don't judge each day by the harvest you reap, but by the seeds you plant.
Robert Louis Stevenson

All the flowers of all the tomorrows are in the seeds of today.
Author Unknown

Now seeds are just dimes to the man in the store
And the dimes are the things that he needs,
And I've been to buy them in seasons before
But have thought of them merely as seeds;
But it flashed through my mind as I took them this time,
"You purchased a miracle here for a dime."
Edgar A. Guest, A Package of Seeds

Now, go forth and PLANT SOMETHING!


---